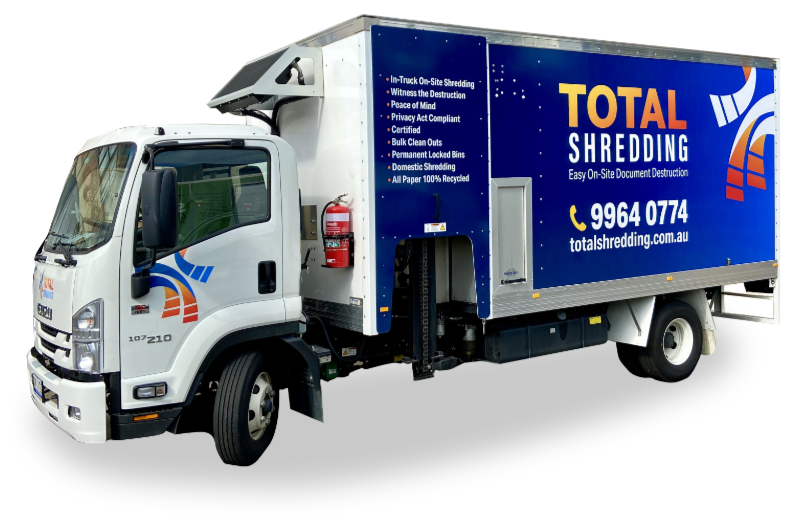 Total Shredding is a locally owned and operated company, offers a totally secure mobile onsite shredding service to organisations in the wider Sydney area.
In North America, Europe and Asia mobile onsite shredding has grown quickly and continues to expand rapidly. Why? Because it dramatically improves information security and is the most secure, efficient, cost effective and worry free method of secure document destruction available.
Mobile onsite shredding is like all the best ideas – very simple and very effective. Using purpose built mobile shredding trucks we come to your premises, then we shred your confidential, sensitive and private documents onsite in front of your eyes. The shredded material is stored onboard the truck and taken away for recycling, no mess no fuss.
You can be absolutely positive your confidential, sensitive and private documents are destroyed because you see it happen. You no longer rely on the promise that your documents will be shredded at another place, at a later time, you see it happen then and there. We provide a certificate of destruction for your records. Beyond the worry free secure destruction of your documents, you are also comfortable, knowing that your waste is being recycled.
Act Now!
Think about how you dispose of your sensitive information. If you have concerns or think you could do better with our style of service, do not hesitate contact us today, the security of your information is too important.
Call us on 02 9964 0774 for more details, a brochure, a quote or even to book an onsite demonstration. Act now and contact Total Shredding.
For Service Contact
Total Shredding Today